Call Now For Air Conditioner or Air Conditioning Repairs Adelaide Fast Mobile Service To All Heating and Cooling Adelaide Suburbs 7 Days
Our Expert aircon repair Technicians Are Based All Over Adelaide, SA
We Offer Best and Cheap Air Conditioning Repairs in Adelaide
Summer in Adelaide is hot and dry, so you'll want to keep your house or business cool and pleasant during that period. If your air conditioner breaks down and you need excellent repairs or maintenance, call the experts at SISA for Air Conditioning Repairs Adelaide right away.
We are leaders in aircon repair adelaide, with over 25 years of experience. We know how important it is to have a working air conditioner throughout the summer months, so we do everything possible to get your home back up and running quickly. With some quick fixes from our team, you may not need any other professional repairs at all.
SISA Air Conditioning is a family owned business with over 25+ years of experience, during which we have become specialists in the air conditioner repairs business in Adelaide. We offer personalised advice, stress-free installation, urgent repairs and maintenance for all brands. We have air conditioner experts available all day for installation, servicing and fixing other faulty work. We can even be at your door simply an hour* after your call for Air Conditioning work!
We Repair, Service & Install All Air Conditioning Systems, All Brands, All Makes & Models With
Free Quotes 08 7100 9333
CALL FOR FAST AIR CONDITIONING REPAIR SERVICES ACROSS ADELAIDE
We Are Certified For Supply, Servicing, and Repair all Major Air Conditioning Brands
Installing a new air conditioner necessitates hiring a reputable company. It doesn't matter whether the installation is complex or straightforward; our skilled and Licensed personnel will complete it promptly, skillfully and affordably. Contact SISA, Air Conditioning Repairs Adelaide, professionals to repair your Air Conditioner since we also specialise in this field. You can count on us to show up when you need us, diagnose any issues swiftly, and complete the repairs to your all major air conditioning brands.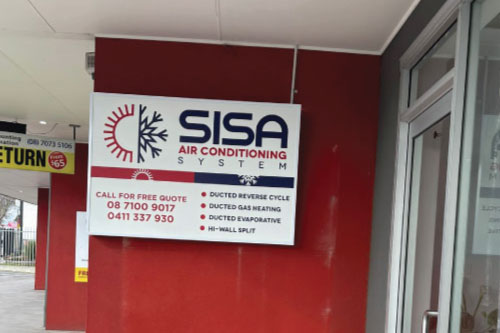 We Provide Fast and Emergency Air Conditioner Repairs Adelaide
We Repair All Popular Makes and Models of air conditioner units
SISA Refrigeration & Air Conditioning's dedicated emergency team can repairs, service and install any make or model of air conditioning unit in Adelaide quickly. We'll do reverse cycle air conditioner repair, split system air conditioning repairs and ducted air conditioning repair service to perfection. So, if you need an emergency air conditioning system Repair in Adelaide, call SISA Air Conditioning team to get unmatched quality of service with affordable price range.
Submit and Get Free Quote!
Air Con Repair With Exciting Deals and Offers!
At SISA Air Conditioning we take care all of your aircon repairs in Adelaide and we also take care of your budget that's why we have allways a exciting deals and amazing offers for you. One you submit the form we will provide you with FREE repairs quote. Our goal is to keep you warm in the winter and cool in the summer. We can do all types of AC repairs and promise to give you with a fast, reliable and local air conditioning repairs service 7 days a week.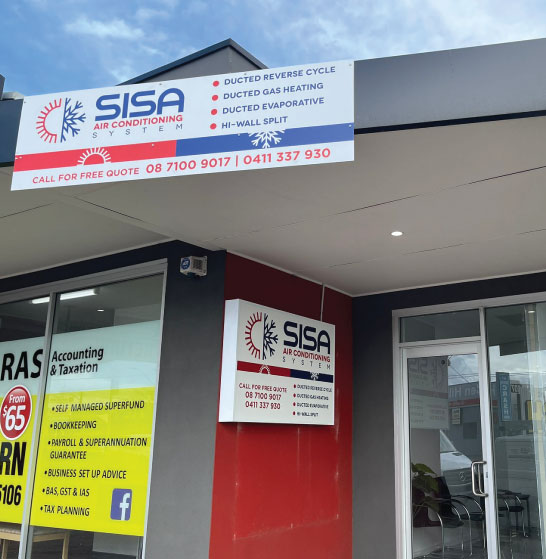 25 Years of Trust Makes Us Best Adelaide Air Conditioning Repairs Team
To provide Adelaide's best air conditioning service, we draw on our extensive collective knowledge and dedication to providing you with the highest quality labour. Whether you need a domestic air conditioner service or a commercial air conditioning system maintenance programme, we SISA, Air Conditioning Repairs Adelaide, are the experts you can count on. In addition, we provide Adelaide residents with expert installation of air conditioners.
Giving Great Service For Air Conditioner Repairs Near You in Adelaide South Australia
We provides youwith the best service we can in Adelaide. That's why we offer emergency service 24/7 because you never know when your air conditioning will need to be repaired. SISA Refrigeration & Air Conditioning Systems also strives to give you the best AC prices in all of Adelaide. Need Repairs? Call for expert advice for all Air Conditioning System Repair Services across Adelaide today!
Free Quotes 08 7100 9333
Ducted Air Conditioning Repairs
In Adelaide, do you require ac repairs and service? SISA's specialists are the only ones to call. Ducted air conditioning repairs Adelaide are our specialties, and we'll work with you to set up an appointment so that we can fix your air conditioner as soon as possible when you need us. If you believe your air conditioner requires maintenance, please get in touch with us right away to set up an appointment with one of our experts.
Split Air Conditioning Repairs
Repairing your split air conditioner is a job best left to professionals who have extensive experience troubleshooting and resolving issues. You can be confident that SISA, Air Conditioning Repair Adelaide, has extensive knowledge in this area. Have any problems with your ducting, condensers, thermostat, blowers, or other cooling system components, we can diagnose, locate, and repair them by our team of air-conditioning experts. So, no matter what the issue is, our repair service will handle it.
Multi-Head Split Systems Repairs
Avoid believing that quality and price are mutually exclusive when it comes to Adelaide air conditioning repairs! If you have a Multi-Head Split System, SISA, aircon repair Adelaide can help. You may count on us for any installation, maintenance, or repair work. We want to establish long-term business partnerships in Adelaide by providing exceptional products and services and being dependable.
Ducted Reverse Cycle Air Conditioning Repairs
Thermostats, condensers, ducting, blowers, and complete cooling systems can all be repaired by us. No matter what type of air conditioner repair you need, we can help. Our team for Air Conditioning Repairs Adelaide has worked on both old and newer models. We're excited to work with you to keep your house at a comfortable temperature so that you and your family can enjoy it during the summer months when it's hot and dry. As an added convenience, we provide 24-hour emergency air conditioning repair services. Please get in touch with us as soon as possible!
SISA's Air Con Repair Team Available in All Parts of Adelaide and Suburbs
Because the quality of the air in your house can have an impact on your health and well-being, having your air conditioning system serviced regularly is crucial. You and your family have significant health dangers from breathing dirty air containing hazardous bacteria or creating temperature extremes. Ensure the safety of you and your loved ones by making sure your air conditioner is in excellent operating order. Our Adelaide-based air conditioner repair professionals have years of experience working on new and vintage air conditioner systems.
Air Conditioning Repairs Adelaide Northern Suburbs
Our team for Air Conditioning Repairs Adelaide Northern Suburbs has been in business for over 25 years and has serviced more than 10k homes. Beaumont, Beulah Park, Burnside, Dulwich, Eastwood are some of our popular locations. Over that time, we have gained knowledge of all sorts of different systems and believe that our expertise can help any household breathe easily again.
We Are For Air Con Repairs Port Adelaide
Staying in Port Adelaide, and if your air conditioner is making strange noises, is unevenly heating or cooling your home, or if your power bill has unexpectedly risen without explanation, call us right once! We offer same-day service, competitive rates, and 24/7 customer support from qualified technicians who are happy to answer any questions about your system's performance.
Air Conditioning Repairs Adelaide Western Suburbs
SISA, air conditioner repair Adelaide, can handle all of your air conditioning service and maintenance requirements in Adelaide Western Suburbs. Keeping your cooling system operating year-round is something we take great pride in helping you with.
Air Con Repairs and Service Adelaide Hills
Repairing an air conditioner requires the expertise of someone with our company's repair service. SISA's AC technicians will diagnose and repair your air conditioner swiftly and expertly using specialized equipment and processes. We know every corner of Adelaide Hills.
We Are Your Professional Heating and Cooling Assistance
Yes, that's correct. We are your professional heating and cooling assistance as our all staff got professional training and Certification. We send our helping hands for your Air Conditioner Repairs. Our employees have had thorough training and are covered by comprehensive insurance, so there's no risk of subpar work or unanticipated issues after the fact. SISA's services are regarded as the best in Adelaide due to our high level of trustworthiness and outstanding work ethic. Even after the job is done, we have a good reputation for our follow-up service. We're happy to assist you with any problems or enhancements you'd like to make.
Call Us Now and Get Same-day Service in All Parts of Adelaide
When it comes to air conditioner difficulties, the most typical mistake is to ignore the weird noises and symptoms. This frequently occurs when the warning indications of air conditioning repair are not readily apparent. The earlier you catch problems with your air conditioner, the better. Among the first indicators of trouble are:
Noises that are out of the ordinary
The same temperature may not be maintained evenly throughout your home (if you have ducted air conditioners).
Your power bill has increased unexpectedly, even though you use the same amount of electricity every day as before.
Air conditioner vents that leak
Whenever you are facing any of these problems you need a prompt service that we provide as Same-day Aircon Repairs Service in All Parts of Adelaide. So, you can call us now to get the benefits from our immediate service help.
Is it worth repairing an air conditioner?
Yes, it is worth repairing your air conditioners because you can not replace them every time it has a problem. Most air conditioners have 15-30 years of life and for this time you can run them efficiently with timely repairs and maintenance work.
Should I replace the 30 year old air conditioner?
Most air conditioners have 25-30 years of life and for this time you can run them efficiently with timely repairs and maintenance work. However, after this, you must replace your air conditioners. Otherwise, you will pay repair costs very often.
How often should air conditioning be serviced?
At least, you should get the air conditioner serviced twice a year. Once before the season and once after the season. However, you must get it serviced before the summer season.
Are you professionals licensed for air conditioning repairs in Adelaide?
Yes, we have only licensed professionals for air conditioning repair works in Adelaide. Our team has already served more than 10k clients in Adelaide and its suburbs.
Do you provide original parts and products of air conditioners?
Yes, we provide original parts and products for air conditioners. We have an association with the best manufacturers in the town for getting the supply of original parts and products for air conditioners. Moreover, we will send the best technicians to troubleshoot your aircon problems in one visit.
What do I do if my AC isn't blowing cold air?
You can check the air blower if some debris is stopping the airflow or the refrigerant gas has ended or not working properly. These two reasons are responsible for an AC not blowing cold air. However, if you are not able to fix this issue, you must call professionals for the work.
How do you know if your home AC compressor is out?
Here are the top five problems that can predict your home AC compressor is out. These are:
A Lack of Hot Air Being Released Outside

Loud or Strange Noises From the Unit

Failure of the Compressor to Turn On

Circuit Breaker Tripping

Leaks Around the Air Conditioning Unit